Echocardiography Online Courses
Student Testimonials
See some testimonials from Dr. Morcerf's students
Dr. Alexandre Maulaz Barcelos
I am a clinical cardiologist, with a medical residency at USP / InCor, with 17 years of experience in electrocardiogram and ergometry. I had never been interested in echocardiography, but about 2 months ago I started to become interested in the method. I looked for information with close doctors, and some colleagues indicated the face-to-face echocardiogram course with Ecor doppler. I took the course during the month of July, under the guidance of Professor Fernando Morcerf, and I only have praise for the method. All classes are available on video for us to watch at home and, the next day, all doubts are taken personally in discussions with Dr. Fernando Morcerf. I recommend to all fellow cardiologists who want to have basic training in echocardiography.
Dr. Débora Faffe
Excellent material available on the site: very didactic classes and comprehensive content. In addition, two particularly interesting items: the "opinions only" section, where we have a critical view of some of the points covered, based on the author's literature and experience; and the exercise session.
Dr. Diogo Nolasco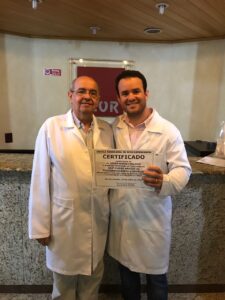 Dr. Fernando Morcerf, one of the icons of echocardiography in Brazil, with more than 180 courses, organizes his course in 30 days. In the morning we have practical classes with patients, in the afternoon the teacher shows several cases related to the topic studied at home the day before and after 16:00h students are released to study predetermined topics, through materials available on the ECOR website. The course is very dynamic, the teacher loves to ask questions or deconstruct old concepts about echocardiography taken by students. Certainly, everyone ends the course with a different view on the topic. Dr. Morcerf, started his studies and work with primitive echocardiography and followed his development. During the course, it shows very well the great value of the One-dimensional echocardiogram, but does 3D exams and speckle tracking, combining the basics with current concepts. It definitely surpassed my expectations; it will certainly help me in my intensive care shifts and cardiological reasoning on a daily basis. The fact that it is 30 days in a row, allows to improve day after day the practical part combined with the gain of theoretical knowledge given. From the material on the website: The classes available on the website are very good, content full of interesting exams, objective and complete material. It is part of a new course model, which allows the student to gain time in the practical part. Thank you very much, Professor Dr. Morcerf, I really enjoyed the course and will recommend it to my friends!
Dr. Mario Biato Junior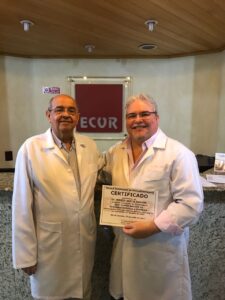 I would like to thank you very much for your dedication, in this month that passed very quickly and very intensely in the practical course, the feasibility of images that I have seen for almost 30 years and that for the first time I was able to produce them with your help. This dedication makes it very easy to comment on your course: Currently in echocardiography, as in all medicine, it is common to get lost with excessive and inaccurate information, but only when we are facing a living reference and live with it for a month , we realize how this learning can be facilitated with the objectivity, seriousness and friendship of Professor Morcerf. We all know brands that have turned names, like Xerox, Durex, or Gillette; Brazil can be proud of a name that is a trademark on echocardiography.